This Photography book consisted of
A Flexural Tree in Memory;
Glow and Tanned Dusk;
Imaginary Club;
Knüppelpfade;
Nackpflanze;
The Color of Pomegranate;The Cement Garden;
The luna Sunk Into the Fog,Unable to Escape.

It is published by Nanjing University Press,with a total of 174 pages.
Preface:The Melting Point of Body and Soul
Xianfa Cheng
Henri Cartier-Bresson once said about photography, "You must reject an amoral reality so as to reach a realness." His concept of "reality" and "realness" can be linked back to the ancient Chinese concept of the relationship between an "object" and its "breath" and what you "see" with your eyes and what you "see" with your mind. Or, put more simply, the two areas of the body and the soul. The best photographs meet at a point where the body melts into the soul.


I know almost nothing about the girl whose pen name is Uchercie this is quite dangerous to say - because at different moments, when looking at her photographs, I feel as if I know everything about her, and I see in her works the rich life experiences of humanity. Her distinct photographs, whether they be about nature, cities, life, or stories, give me a strong sense of close detachment from life. In its "closeness" she maintains the faithfulness of documenting reality, but in its "detachment" she opens a door to a poetic space behind the images. It is because of this great poetic nature that I am able to pick up my pen and write a few courageous words on her behalf.


From this point of view, her photographic works, since they are print, feel existent, but also have a perception of being three-dimensional; it is both a simple and pure existence, yet a contradiction of this existence. The "complexity behind the door" rushes onto the paper, enchanting the viewer.


In the series of works entitled "Nacktpflanze", I see images of a girl's nude body under the bright or dim light, ample breasts and butterflies or a girl braiding her hair, but my emotions lie in the unseen and entangled minds' eye of these women: a feeling of repressed lust, mood, and emotions, swimming with force. Once while reading a poem from Paul Celan, I stumbled upon this word "nacktpflanze."


In another series of photos entitled "Imaginary Club," the hallucinogenic images view like a psychodrama film: a naked man and woman tangled on top of a metal framed bed, a cup of chemical reactants balanced on a female body, the face of a girl silently lost in memory, shot in the quick flash of a bright light, a reclining woman seemingly suspended in air. This series' strong impact of modernity and visual composition engage with the viewer's evolution of thought; the silent space that opens just after the seeing the photograph, forming an interaction with the viewer's imagination, mutually promoting its dynamic aesthetics.


Yes, distinct works are never in a finished state, but rather the works are completely open, forever waiting for the next viewer to become deeply and emotionally involved. Through her lens, those empty chairs captured in a wasted garden connect to our own memories of a familiar setting, quietly waiting for us to sit amongst them again. Yes, in certain situations, we are not the merely the viewers of photographs shot through Uchercie's lens, we are the yet to be captured subjects of her camera.


To preserve the pure identity as a viewer, I didn't talk with Uchercie about any of her creative ideas before I wrote this text. Only her photographs and my interpretation, or to be exact, my misunderstandings, fill the gap between the two of us. In previous articles, I repeatedly state a point of view: a creation's misunderstanding and ambiguity and even the author's vision, are no match for the new space that it creates.


"The Color of Pomegranate" series is filled with the pure breath of death. Each person that stands here, their body still ebbs and flows with life, but what I feel is death: the kind of death that brings a breath of warm memories, nothing fearful. I see their past before they die. They are a group of people hollowed out of time.


Another series, "Autumn's Breast" contains photographs with a composition and tone that possess a Monet-like quality: water reflections of grandiose trees and duckweed and wild nymphs forlornly floating on a lake, alludes to a poem by the famous Chinese poet Li Bai. Sorrow filled with charm and time's complexity of indescribable things.


I've also seen a few of Uchercie's paintings, and they are even more ferocious than her photographs, but I won't discuss them here. I look forward to cntinously seeing her "new self."




on June of 2015 emerald lack
在灵与肉的焊接点上

陈先发

布勒松在谈摄影时曾说:"避开无道德的现实,才能抵达真实"。他对"现实"与"真实"的概念切割,大致可以归入中国人自古对"物象"与"气息"的分置,是"眼见"与"心见"的关系。或者,干脆与简单些,将他的意思纳入肉与灵的两个大的范畴。最好的照片,都恰好在灵与肉的焊接点上。

我对这个笔名却兮的女孩近乎一无所知---这是个危险的说法---因为在另一些时刻,在一遍遍翻阅她的照片时,我似乎又觉得感知到了她的"全部",而非她散落于各类人生经历中的一鳞半爪。她那些独特的照片,无论有关山水、城市、人物、故事,给我一种强烈的与生活若即若离之感。在"若即"中,她保持着对现实纪录的忠实,而在"若离"中,她打开了物象背后的诗性空间。正是这种巨大的诗性,让我有了动笔为她写几段话的勇气。

从这个角度,她的摄影作品既是一种平面的、感受的存在,更是一种立体的、感知的存在;既是一种单纯的存在,更是一种矛盾的存在。"背面的复杂性"冲到了纸面,正是她的迷人之处。

在一组题为《nacktpflanze》(裸蕨)的照片中,我看到的是或明或暗的光线下裸露的女体,丰乳与蝴蝶或女子搅扯辫子的奇特构图,但在我情感中呈现出来的却是这些女人幽玄而纠缠的心理光景,一种略让人压抑的在情欲、情绪、情感、情境中游动的力。

Nacktpflanze,我曾在保罗策兰的诗中反复读到过这个词。而另一组题为《虚构的俱乐部》的照片,则恍惚丰富如一部心理学电影,铁架床上捆绑的男女裸体,化学试剂杯边扁平的女体,强光半射中似静止于往事之忆中的少女侧脸,似乎悬浮着的卧女等,构图的现代性与视觉的强烈冲击力都参与了观者的心理演变,照片之后的幽深不可测的空间一下子敞开了,形成与观者的想像力相互作用、相互推动的动态美学。

是的,独特的作品从不是一种完成状态的封闭之物,而是一种完全打开的、永远等待着下一个观者情绪与情感深度参与的空间。在她镜头下那些闲置的废花园中的空椅子,恍同我们自己回忆中的某个熟悉场景,静待着我们再度坐在其中。是的,在一些特定的情境里,我们不是雀兮镜头的观者,我们正是她镜头中未被摄出的主角。

为了保持一个观者身份的纯粹性,在写这篇简短文字之前,我没有和却兮进行任何有关她创作理念的沟通。只有她的照片和我的解读、准确地说是我的误读,在填补我们两人之间的空白地带。在我以前的文章中,我多次表明一个观点,正是误读与歧义在创造连作者的视力都不曾企及的新空间。

《石榴的颜色》组照弥漫着死亡的纯净气息。这里站立的每一个人,虽然身体仍是蓬勃与舒张的,可我感觉到的是死亡,而且是带着温暖回忆的死亡的气息,并没有恐惧可言。我看到的是她们死之前的往昔。她们是一群被时光掏空的人。另一组名为《秋天的乳头》的照片,构图与色调有着莫奈画作的意味,高大树木在水中的倒影、浮萍与野荇的荒寂湖面,有李白所谓"东崖合沓蔽轻雾,深林杂树空芊绵"之境,充满了时光的复杂韵味与一种不可名状的物之哀。

也看过几幅却兮的画作,其艺术冲击力尤甚摄影作品,此处不单论,我期待她身上无外的
"新我"不断涌出。

2015年6月于合肥翡翠湖畔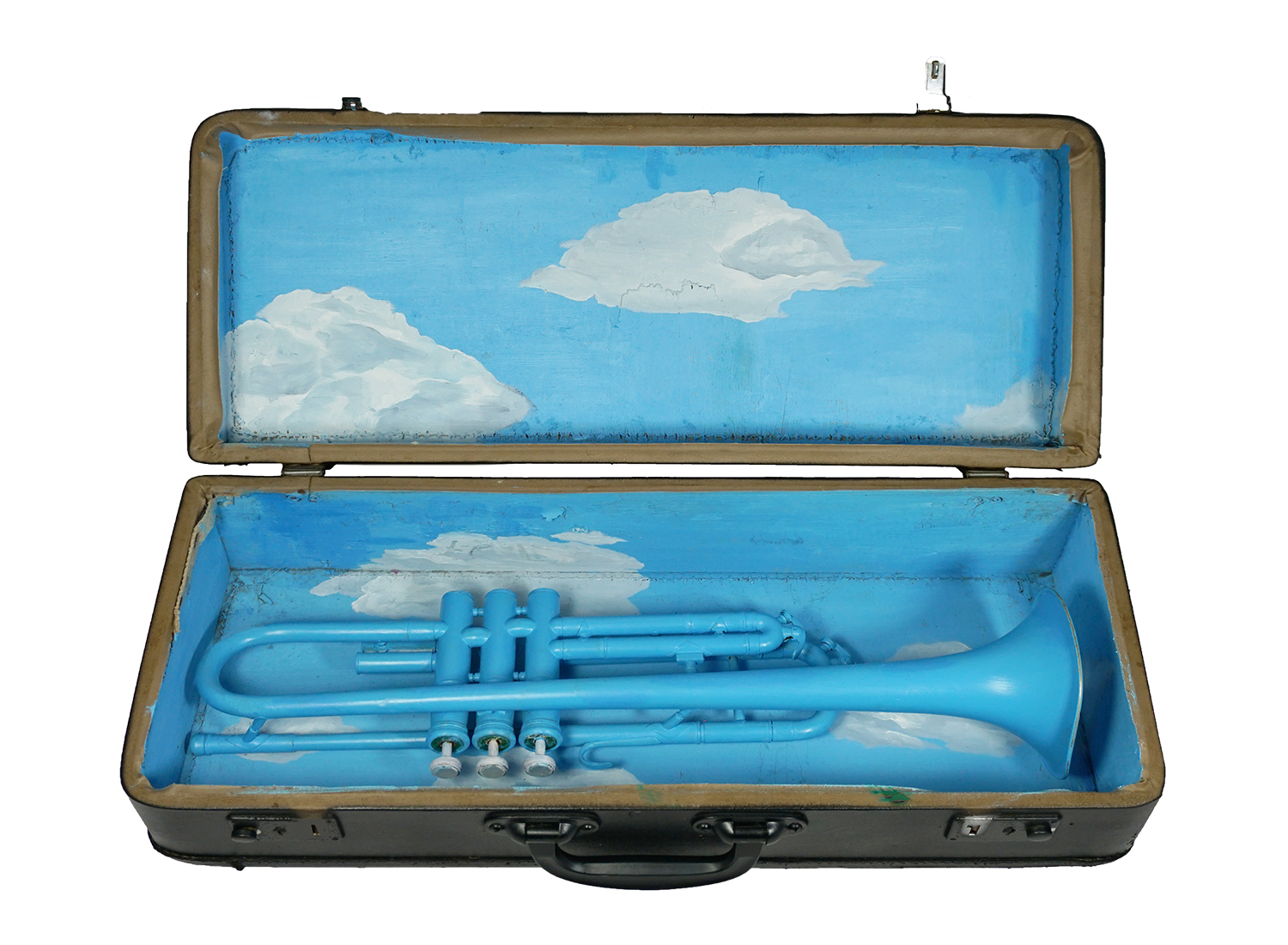 A gift for the next lover
2016

80 x 20 x 24 cm
Made by Oil Painting, Plastic,Wood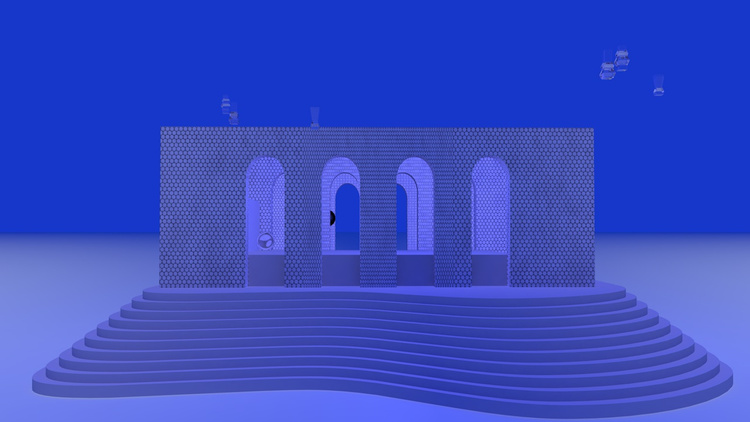 MARIENBUG

2019

3140 x 2160, 720 degree
139 seconds

Marienbug is a VR animation, the name was adapted from Last year in Marienbad. It is a contextual reconstruction of a historical event which does not exist. 'Bug' is the protagonist of the journey narrative, the images are displayed as the surveillance camera switches. The dystopian imagination places us directly into a terrifying world, alerting us of the danger that the future holds if we do not recognize its symptoms in the present. It is an architectural dystopia; there is no specific architectural indication and cannot distinguish its historical and cultural origins by designing these geometrical shapes with a unified yet evolving vocabulary. They can create a framework for the narrative that sparks people to understand it as a unified tale. Most importantly, the fictional city will represent an integration of the illusionist painting and the motionless ritual of violence and representation, where our relationship to this landscape defines us.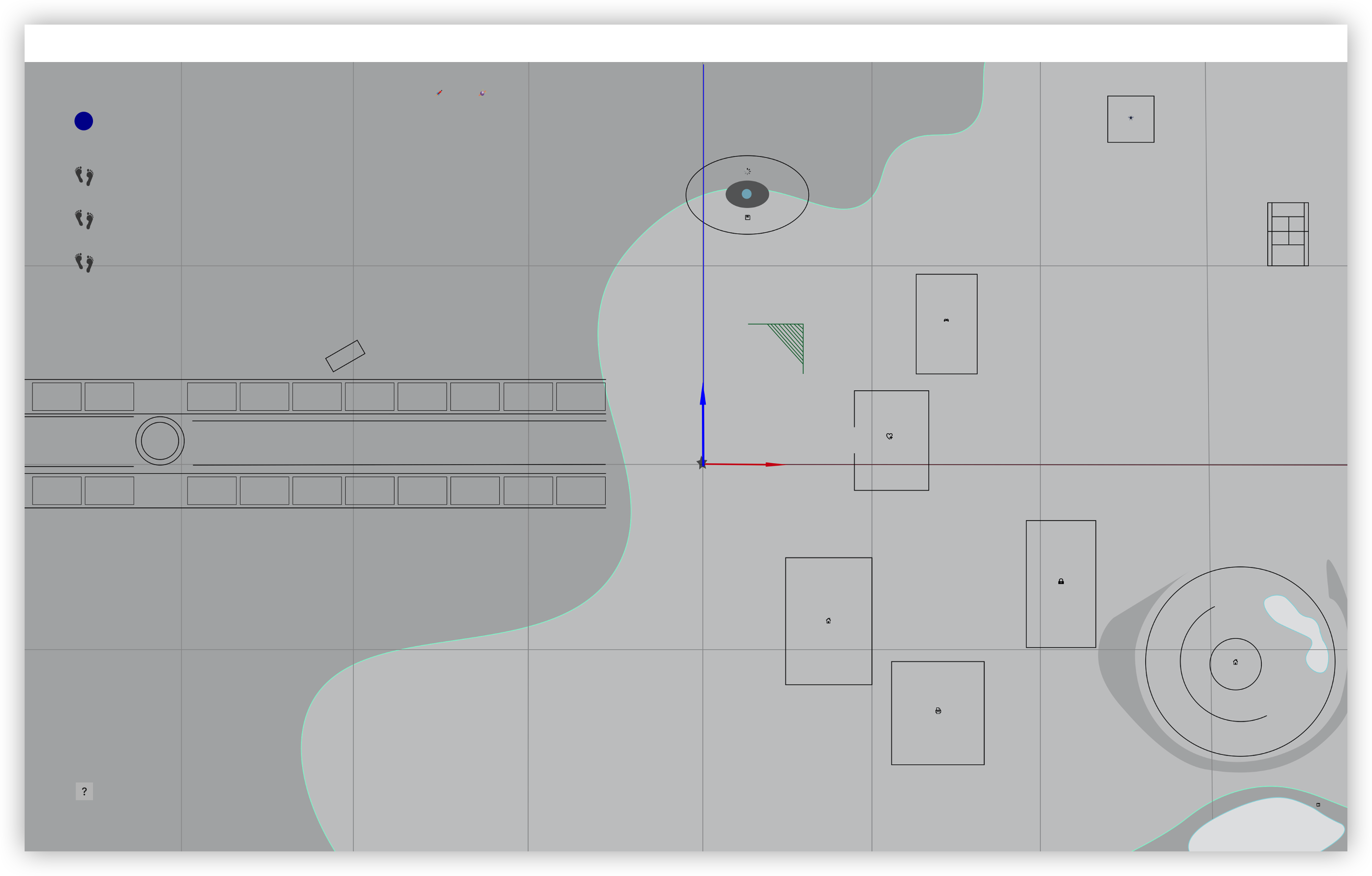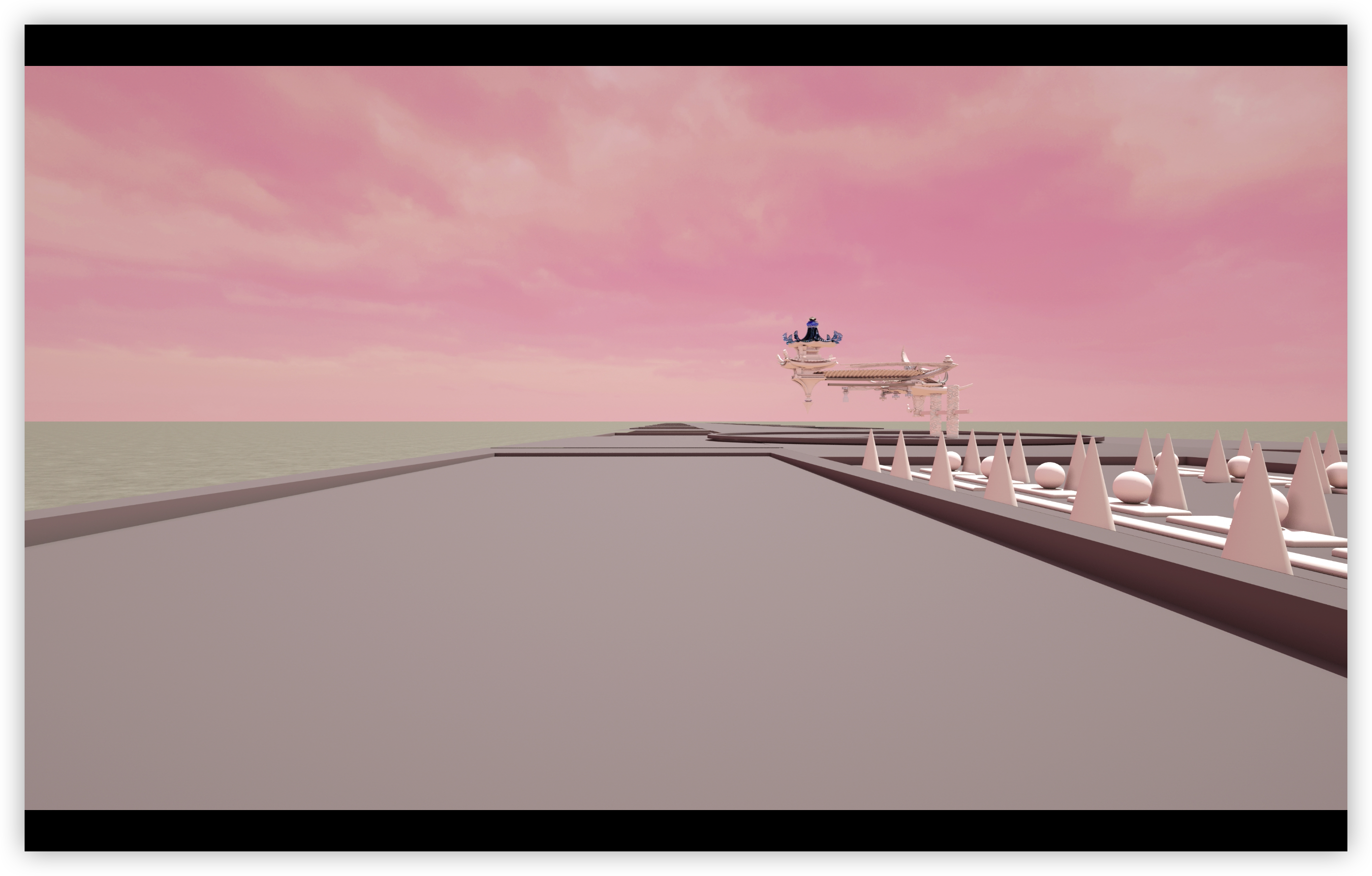 Nephelococcygia

2020 - onging

Dimentiona flexible
Website / Installation







Sisyphus


2021
3D printing resin