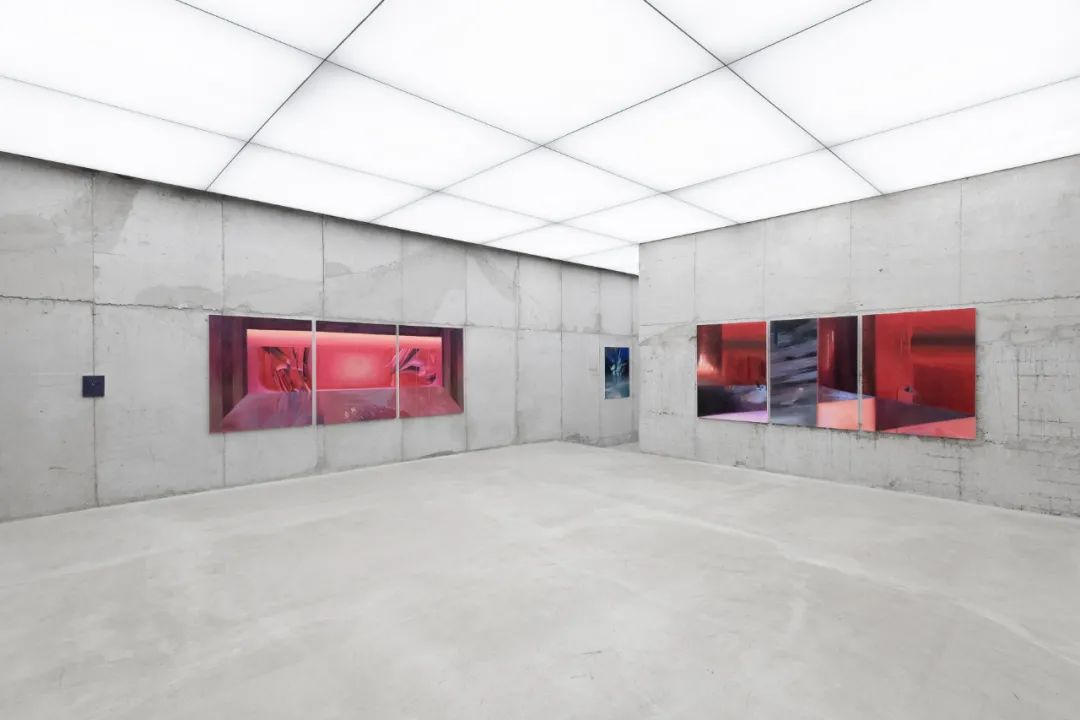 Installation View, Artwork ©uchercie


" 绘画这个媒介可以直观地表现出一直吸收的东西。"

汤却兮的作品有着强烈的空间感,残存着生物气息的物,构建于幻想和现实之间虚实未明的世界。模糊故事线、混合不同的元素,在这个虚构的世界里,时间似乎变得扭曲,科技的威力超越了想象,社会的边界在不断地涌现和崩溃。

Uchercie's works have a strong sense of space, and objects with residual biological atmosphere, and are constructed in an unclear world between fantasy and reality. By blurring the storyline and mixing different elements in this fictional world, time seems distorted, the power of technology exceeds imagination, and the boundaries of society are constantly emerging and collapsing.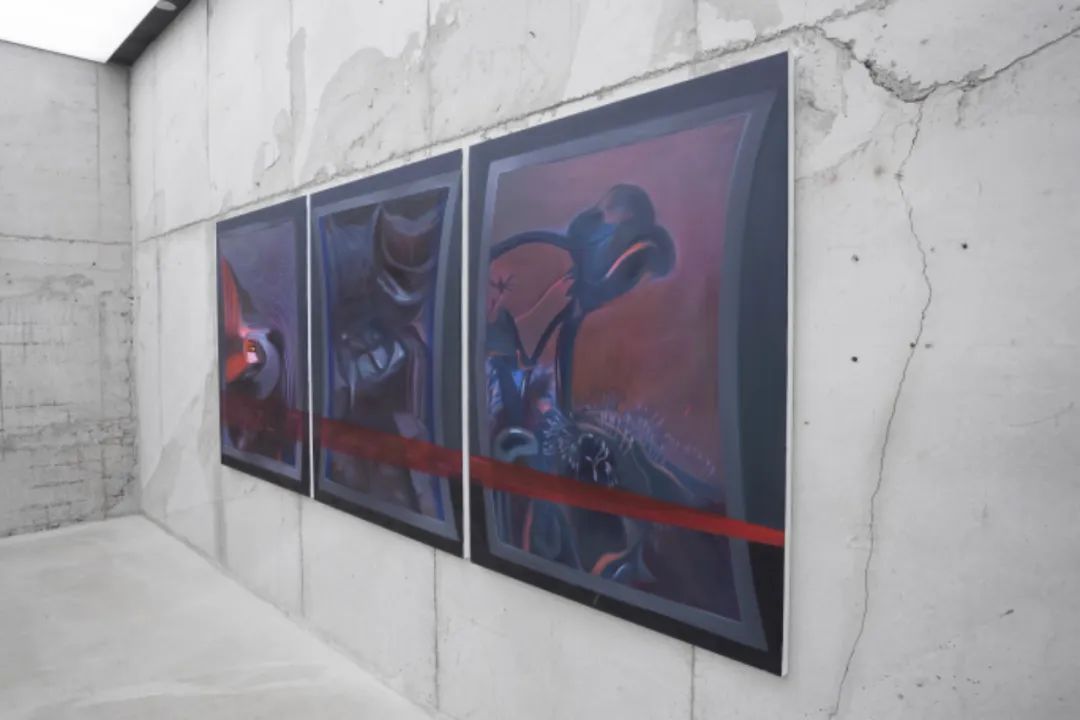 The shadow falls into the shadow, 152×366cm, Oil on canvas, 2023


加速主义是她创作主要的背景,基于此来构建后资本主义的复杂性以及人类在其中的命运。并勾勒出一个充满曲线和交错的未来幻想,一个更崇尚宇宙本源,赞美异质化的自我表达,挑战传统二元制,更加流动可变,包容且可沟通的空间。

Main of their practices under the umbrella of accelerasionism, based on which they construct the complexity of post-capitalism and the fate of mankind within it. Uchercie outlines a future fantasy full of curves and intersections, a space that advocates the origin of the universe, praises heterogeneous self-expression, and challenges the traditional binary system, which leads to a more fluid, inclusive, and communicable future.



Installation View, Artwork ©uchercie


很难将却兮的作品简单的归为具象还是抽象,就像她看待普遍二元的观点也不能认同,而是多样的不确定的,不将事物理解为两个对立面,而是更多地去探索中间状态和交叉点。接纳个体的多样性,个人被鼓励以独特的方式表达自己,不仅在性别和文化的方面。也更加关注宇宙的起源、本质和存在方式。

It is difficult to simply classify Uchercie's works as concrete or abstract, just as they cannot agree with their view of universal duality but is diverse and uncertain. They does not understand things as two opposites, but more to explore in-between states and intersections. Embracing individual diversity is important to Uchercie, as they believe individuals are encouraged to express themselves in unique ways, not only in terms of gender and culture. At the same time, Uchercie also pays more attention to the origin, nature, and way of existence of the universe.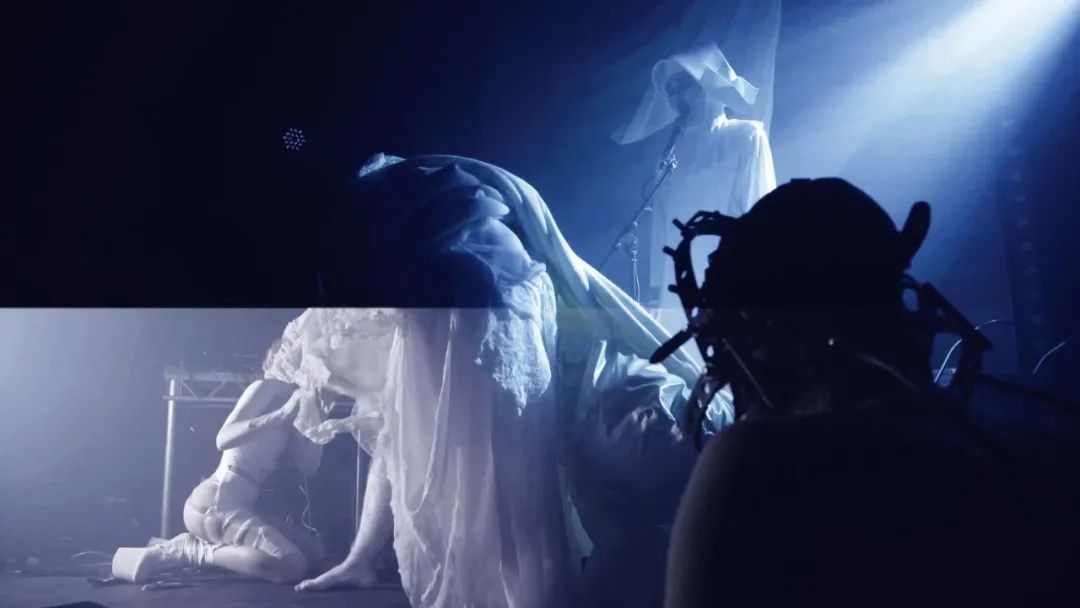 Meet Wraith, Documentation film @dizzyarticle


摄影、电影以及戏剧方面的经验也能从她的画面里读出来,就像这次展出的三联作品,受摄影的镜头语言影响,作品单幅和整体都有各自成立的视点。以非线性的方式来呈现作品,突出主体的不确定性和时间的流动性。其下暗流涌动的戏剧冲突产生了独属于她的节奏。

Familiarity in photography, film, and theater can also be read from Uchercie's paintings. Just like the triptych works on display this time, influenced by the lens language of photography, each work has its point of view individually and as a whole. These triptych paintings are presented in a non-linear way to highlight the uncertainty of the subject and the fluidity of time. The undercurrent of dramatic conflict creates a unique rhythm to Uchercie.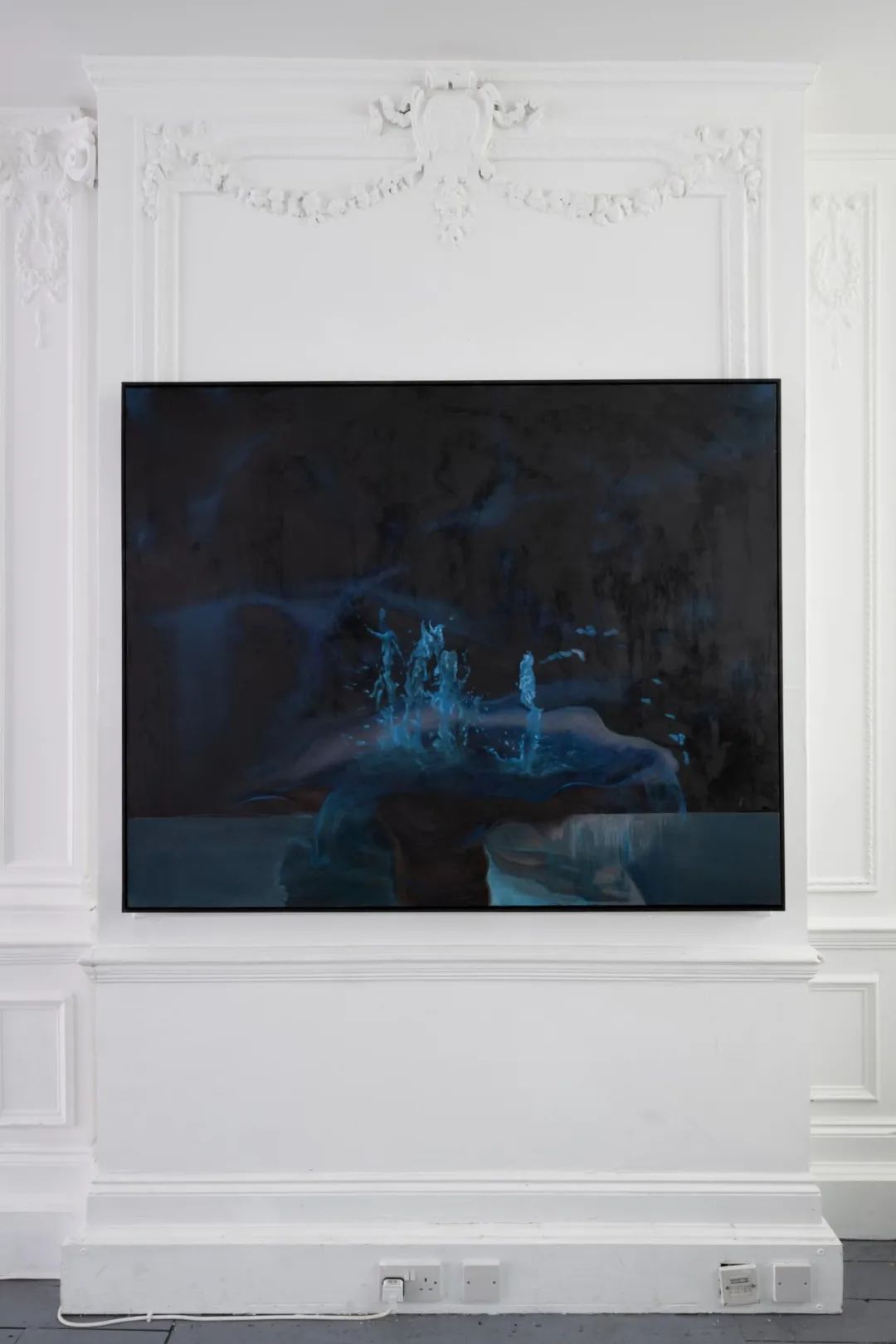 Synecdoche of construction, 152×122×5cm, Oil, airbrush, MDF, 2021 ©Robbie Von Kampen gallery


汤却兮认为绘画是语法与空间句法的组合,而且绘画这个媒介可以直观地表现出一直吸收的东西(调整你的身体、行为产生新的语言)。她说:"不同的表达形式只是呈现观念的媒介,相对来说绘画更无限。"而这种无限又不可避免的受到画框的限制,通过在画布上制造张力来铭刻无限,保留这种矛盾而不解决,得以制造一整个世界的局部的幻觉。

Uchercie believes that painting is a combination of grammar and space syntax, while painting could intuitively express what you have been absorbing as a medium (adjust your body and behavior to create new language). They said: "Different forms of expression are just media to present concepts. Relatively speaking, painting is more infinite." And this infinity is inevitably limited by the frame. By creating tension on the canvas, infinity is engraved and contradiction is preserved. Without solving it, we can create a partial illusion of the whole world.



London Grads Now. 21, Saatchi Gallery, London ©uchercie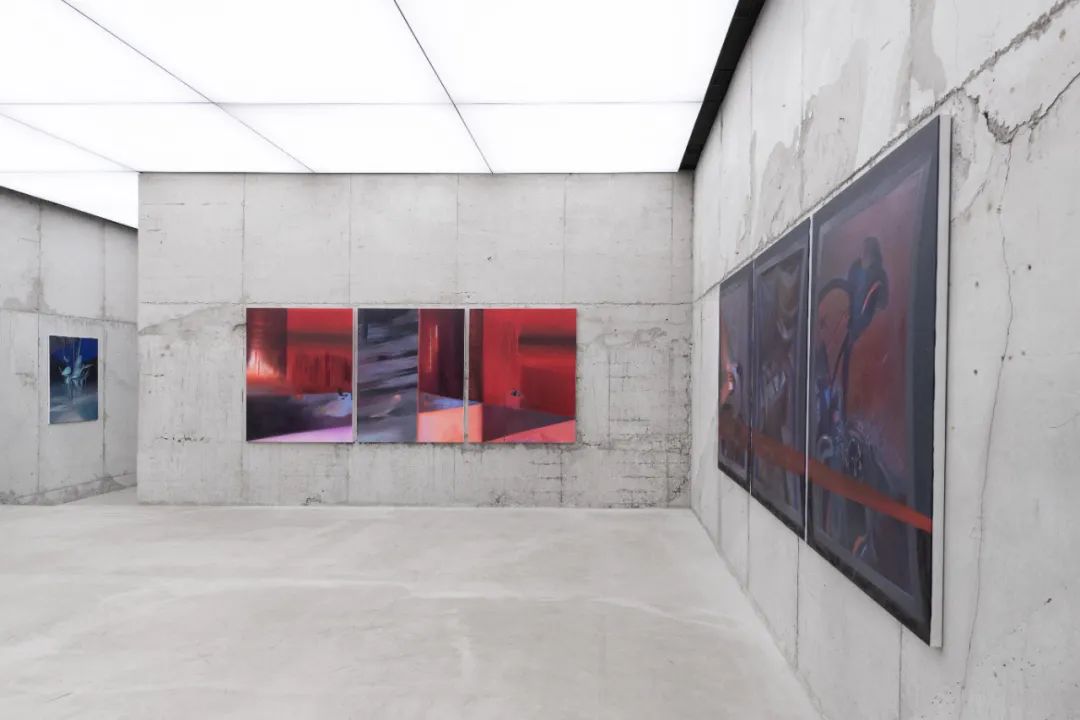 Installation View, Artwork ©uchercie


Q:很多观众反馈不能进入你的作品或是不能理解作品本身和背后所讨论的内容的关系,你可以用简单的话帮助大多数人理解吗?

A:是加速中的,生成中的世界。每一个被呈现出来的具体的物件的主体性和叙事是被剥离的,它们在这个创作模型里不能独自承担阐释的任务。而是关于工作方法背后的图像理论代表的世界观和未来观。

主体不再指向那个足以赋予时间和生命以秩序和意义的中心和基础,而是从根本上蜕变为纯粹时间流动的符号,是时间事件的一个指示词而已的结构里。

Q: Many viewers report that they cannot understand your work or comprehend the relationship between the work and the content discussed behind it. Can you help most people understand it in simple words?

A: It is a world that is accelerating and generating. The subjectivity and narrative of each presented object are stripped away; and they cannot bear the task of interpretation alone in this creative model. Instead, it's about the worldview and future represented by the theory of image methods behind the work.

The subject no longer points to the center and foundation that provide order and meaning to time and life but fundamentally transforms into a symbol of pure time flow, a mere indicator of the structure of temporal events.



Autoflux #01, 70×50cm, Oil on canvas, 2023


Q:可以阐释一下你作品想表达的世界观和未来观吗?

A:这次展览的标题Autopoetic强调的是人作为系统基础的一种生成机制。

人如何消化和抵抗工业产能过剩的同质化的视觉传播——统计学渲染(AI)和统计学模版(广告等)。以及通过编排一些熟悉的元素,展现出未来图景中被潜入尝试和阅读经验之间产生的情势内部中的断层和例外。"事件"在巴迪欧视域中具有颠覆资本逻辑结构,打破操控,促成主体解放的潜力,这种历史性理论的绽出构成了对现象学的超越。

Q: Can you explain the worldview and future perspective that your work aims to express?

A: The title of this exhibition, "Autopoetic" underscores the generative mechanism of human beings as the foundation of the system.

How do people process and resist the uniform visual communication of industrial overcapacity—statistical rendering (AI) and statistical templates (advertising, etc.) By arranging familiar elements, it reveals the discontinuities and exceptions in the future image embedded in the space between the attempt and reading experience. From Badiou's perspective, an "event" has the potential to disrupt the logical structure of capital, dismantle manipulation, and foster the liberation of the subject. The emergence of this historical theory constitutes the transcendence of phenomenology.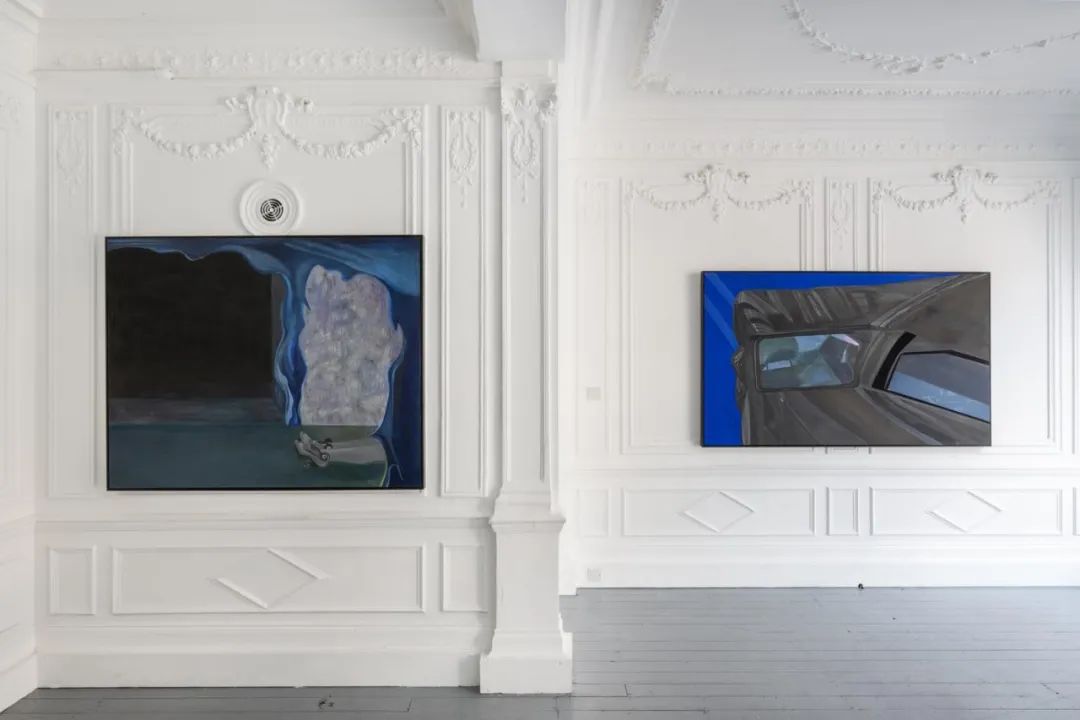 Installation View ©Robbie Von Kampen gallery


Q:其他媒介的创作给你的绘画带来了什么?不同媒介会相互影响吗?

A:带来了对语言系统的模型的思考。从中吸取不同媒介的特点和了解各自的局限性,在这个理解的基础上,促成各自的反殖民的活力。
会互相影响,只有相互影响才能脱离类型学式的思考模型。

Q: What does the integration of other media bring to your painting? Do different media influence each other?

A: It leads to contemplation about the language system model. Understanding the characteristics of different media and their respective limitations is essential. With this understanding, they can nurture their anti-colonial vitality.
They will influence each other, and only through this mutual influence can we break away from the typological thinking model.



Autoflux #04, 122×91cm, Oil on canvas, 2023


Q:绘画对于你来说是精神引领的一种表达方式,那你认为目前的作品达到这种超越语法和语言转译的效果了吗?

A:我觉得绘画特有的物质性,时代性和工作方式——通过身体动态来展现认知,情绪,心理状态,精神能量和处理信息的过程,是立体的,能动的视觉机制或认知装置。

人本身作为一种技术性或者方法论式的存在如果能够从后摄影,后网络和后数字图片的思路中理解绘画,并且生成出非单一图层和非单一语言的空间句法和视角,就能达到超越语法和转译的效果了。

Q: For you, painting is a way of expressing spiritual guidance. Do you think your current works achieve this effect that transcends verbal expression and language translation?

A: I think the unique materiality, era, and working method of painting - showing cognition, emotion, psychological state, spiritual energy, and the process of processing information through body dynamics are three-dimensional and active visual mechanisms or cognitive devices.

The human being as a technical or methodological being can reach beyond syntax and translation if it is able to understand painting from a post-photographic, post-internet and post-digital image mindset and generate spatial syntax and perspectives that are not monolithic layers and not monolingual.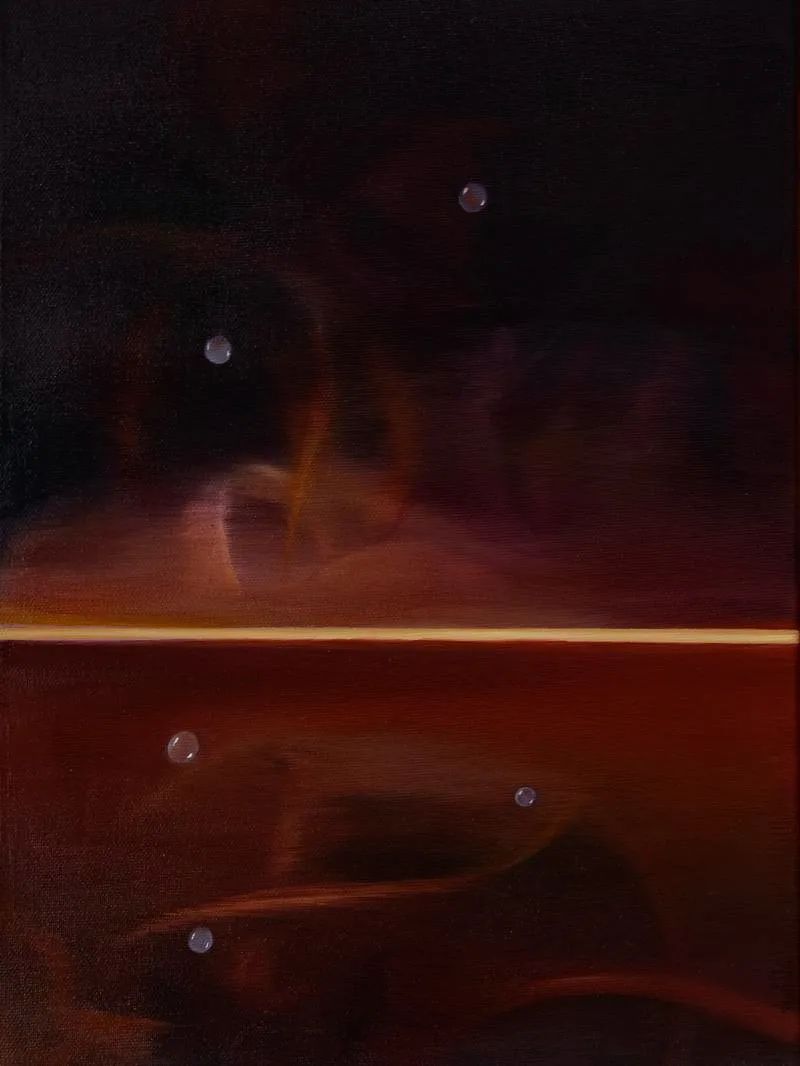 Fictional plants 05, 41×30cm, Oil on canvas, 2022


Q:画面会有一种非常和谐的节奏感和冲突感,是来源于哪里呢?

A:我认为绘画是具身性的事件,是一个漫长的生成过程,是我对于周围环境的吸收和抵抗中产生的运动,以及与我设想中的不存在的激发我的某个原因的结合,这两层动态再加上油画本身的化学作用时,我对它观察中产生的可能性的联想。这里面有多重信息的释放和消解,也有我对有限感知里的时间和空间的非线性的处理。还基于我对软件、机械和统计学渲染(AI)生成图片机制的逻辑的理解。在此基础上拒绝一种平均的状态,拒绝一种决定性的瞬间,拒绝一种具象和抽象的二分法,同时赞美人的生命力和一种交互机制下产生的事件性的律动。

Q: Your artworks exhibit a harmonious sense of rhythm and conflict. Where do these qualities originate from?

A: I consider painting an embodied event, a lengthy generative process resulting from my absorption of and resistance to the surrounding environment. It's a fusion of this movement and a trigger rooted in something nonexistent but stimulating within my imagination. These two dynamic layers, combined with the chemical effects of oil painting, contribute to my associations based on observations. This involves the release and dissolution of multiple layers of information, as well as my nonlinear treatment of time and space within limited perception. It's also built upon my understanding of the logic behind software, machinery, and statistical rendering (AI) image generation. This foundation rejects an average state, a decisive moment, and a binary division between concrete and abstract, while celebrating human vitality and the rhythmic events arising from an interactive mechanism.



Intrinsic under the dome, 152×366cm, Oil on canvas, 2023


Q:从探讨后数字化到灵性甚至于"道"是有一个过程的吗?

A:是一种当代的混合而不是一个线性的因果过程,甚至是一种必然的集合。

Q: Is there a process from exploring post-digital aspects to spirituality and even "Tao"?

A: It's a contemporary blend rather than a linear causal process, even something of an inevitable assembleage.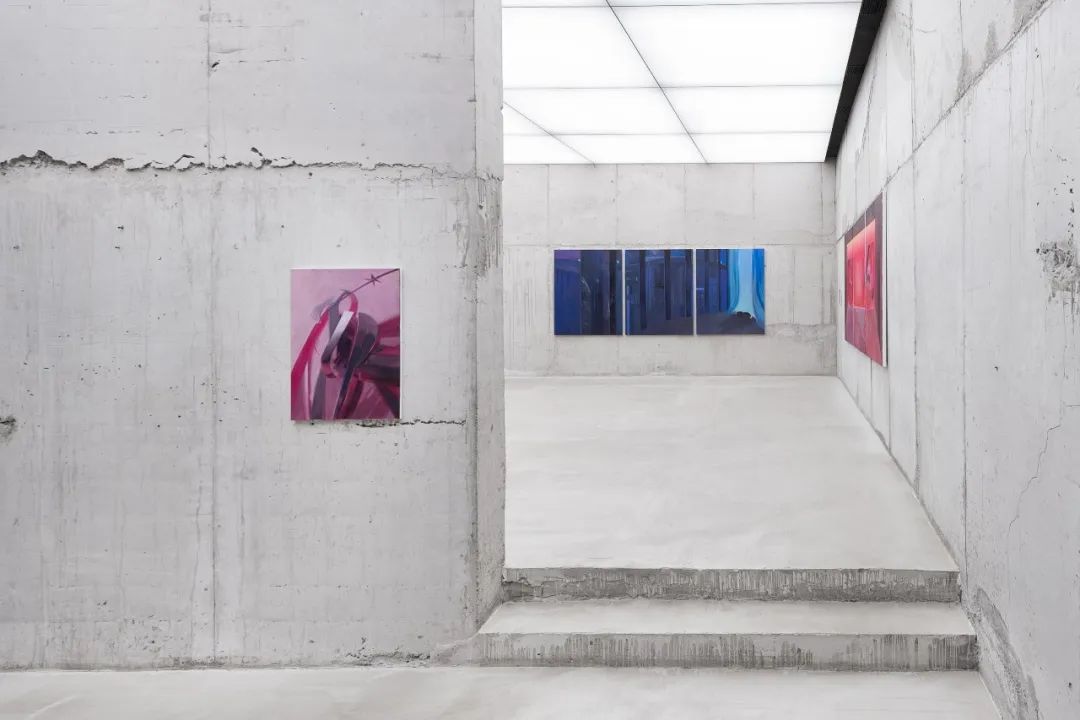 Installation View, Artwork ©uchercie


Q:研究未来愿景和后人类进步的困境是为了寻求一个什么样的结果?

A:在我构建的加速主义迷思中,更崇尚宇宙的本源,个人的觉醒和超越,以及赞美异质化的自我表达。是一种尝试摆脱剩余价值被掠夺的可能性,是一种技术末世下减熵式的理念,是尝试沟通一种更酷儿化的未来的设想空间。

Q: Studying future visions and the dilemmas of post-human progress, what kind of outcome are you seeking?

A: Within the accelerationist mythos I'm constructing, I prioritize the origin of the universe, individual awakening and transcendence, and celebrate heterogenous self-expression. It's an attempt to break away from the possibility of surplus value being plundered, embracing a concept of entropy reduction in Techno Apocalypse.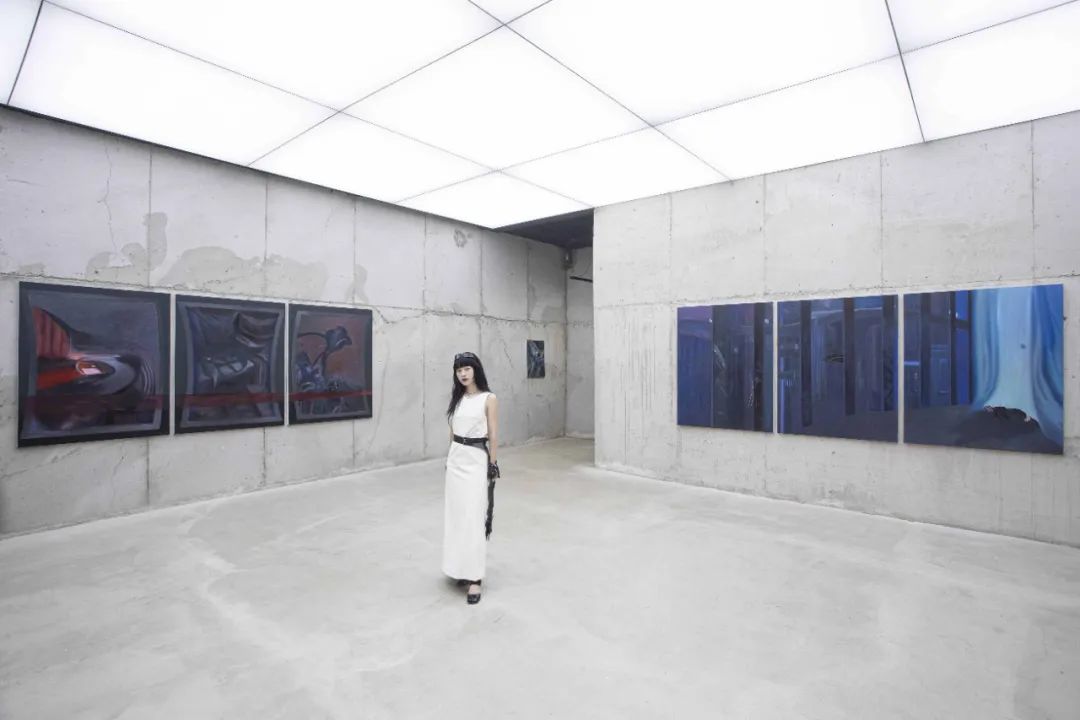 @uchercie
Interviewed by @Simulacra